St. Aidan - Maodhóg - First Bishop of Ferns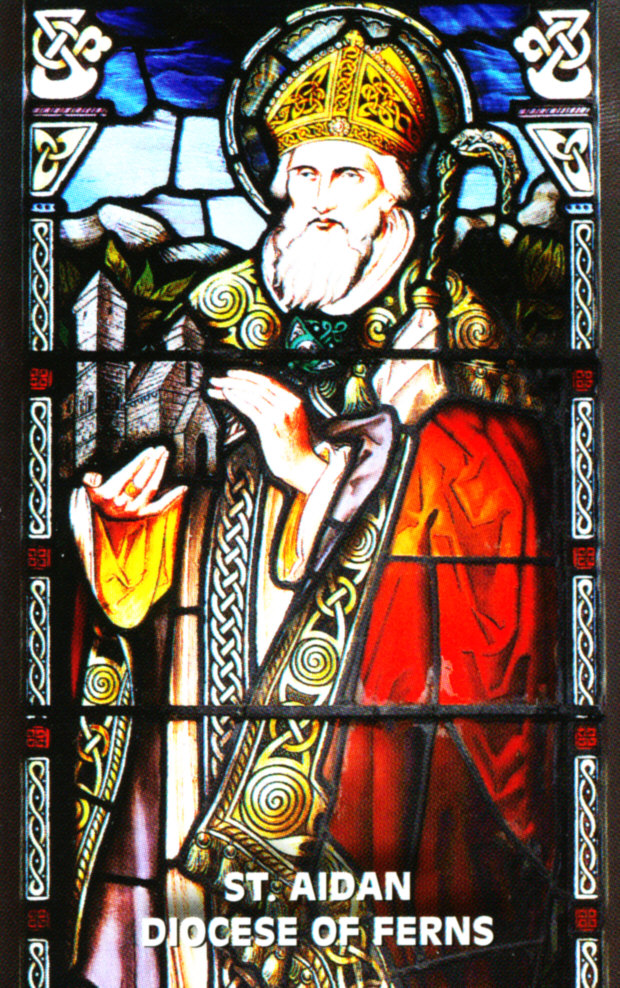 The father of the boy who was to become the first bishop of the diocese of Ferns was named Sétna (modern Irish Séanna); he was married to Eithne who was decended from the king of Connacht. The couple were childless for some time and prayed earnestly for a son. For this intention they were generous in almsgiving and also frequented a monastery at Droim Leathan (Drumlane) in the present county of Cavan.
Their prayers were answered and Eithne gave birth to a boy. The place of his birth was a small island called Inis Bréachmhaí (Breaghwy) in a lake in east Breifne in the present parish of Templeport in County Cavan. The year of his birth has not been accurately determined but it was some time in the middle of the sixth century.
The boy was Christened Aed (mod. Ir. Aodh), which with the addition of the diminutive suffix – án, is rendered Aodhán, anglicised as Aidan, Aiden, Aedan, Edan); and, also, by prefixing the possessive mo and adding the diminutive –óg, becomes Maodhóg (Old Ir. Maedóc or Moedóc), the name by which he was universally known.
We are told that, while still a small boy, he was surrendered by his father as a hostage to the Ard-Rí, Ainmhire. As he grew to manhood, his fame for sanctity spread and many young men approached him, desiring to embrace the religious life under his direction. Through a spirit of humility and wishing to avoid distinction, Maodhóg left his native district and eventually crossed over to Wales where he placed himself under the direction of St. David, Dewi Sant, bishop of Mynyw (Menevia).
On his return to Ireland, he landed on the coast of the present County Wexford, then the territory of Uí Cinsealaigh. According to Edward Culleton in his Celtic and Early Christian Wexford, he was given some land at Fearna (Ferns) by a man named Becc, a cousin of Brandubh, king of Leinster, and 'later more land may have been given… by Brandubh himself for curing him of a terrible sickness'. [Some versions of the story have it that Brandubh gave Maodhóg the grant of land in thanksgiving for a victory over King Aodh mac Ainmhire at the battle of Dún Bolg (in the present County Wicklow) in 598, but this probably refers to another Maodhóg, namely, Maodhóg of Cluain Mhór (Clonmore).]
Maodhóg built his first church and established his first monastery at Fearna in 598 and it is accepted that he was consecrated bishop that same year, so he was both abbot of the monastery and bishop. He is said to have founded thirty churches and monastic settlements in Uí Cinsealaigh. Besides his first establishment at Fearna, he is especially associated with Seanbhotha, later Teampall Seanbhoth (Templeshanbo). As well as in the diocese which he founded, he is also venerated in the diocese of Kilmore, particularly at Droim Leathan and at his birthplace, Inis Bréachmhaí, Templeport, and at Rossinver, County Leitrim. E.G. Bower, in his Settlements of Celtic Saints in Wales, writes: 'St. Aidan of Ferns had dedications in Wales at Llawhaden, Nolton West, and Solfach in Pembrokeshire; at Llanmadog in Gower, and at Capelmadog in Radnorshire, if we allow that his name might occur at Madog, from the form Mo-Aed-Og.'
All the sources agree as to the date of his death, 31st January, but as to the year, Annála Ríoghachta Éireann has 624, while other sources place it a year or two later. Canon John O'Hanlon, in his Lives of the Irish Saints, states that Maodhóg was buried, 'in his church at Ferns', but Cavan historians maintain that he was laid to rest in his native Breifne.
Aidan was renowned for his generosity and kindness.
In the year 2000 we celebrated the 1400 anniversary of our diocese, delayed by a couple of years because of the desire not to clash with the Insurrection of 1798 commemorations.
Text above adapted from – 'Churches of the Diocese of Ferns – Symbols of a Living Faith'.
Published by Booklink, Ireland. Text copyright Diocese of Ferns 2004.
Used with Kind Permission.
Prayer & Novena to St. Aidan Patron of Ferns.
Almighty God, our creator and guide. You chose St. Aidan to establish a church at Ferns and to preach the Good News of your Son, Jesus Christ. As we celebrate his feast, we give thanks for his witness and teaching.
Through his intercession, we pray that we remain true to the faith which he brought to Ferns: that we listen to the Word of God; follow the teaching of our Holy Father; and remain loyal to the tradition of our faith.
All powerfull Father, through the intercession of St. Aidan, I ask you to listen to and grant my prayer and request...
I ask these prayers through our Lord Jesus Christ, your Son, who lives and reigns with you and the Holy Spirit, One God for ever and ever. Amen.
St. Aidan, patron saint of the diocese of Ferns.
Feast day 30th January.
Novena begins on the 21st January and may be said anytime of the year.